Luna Ergonomic Chair
The LUNA ergonomic chair is sleek, modern and versatile. This state-of-the-art executive or task chair is ideal for your work or home office.
Standard features include height adjustable armrests, an adjustable headrest, adjustable lumbar support and a mesh backrest. The weight-sensitive synchronous swivel & tilt mechanism has an integrated seat depth adjustment, making the Luna an all-rounder that offers both versatility and superior ergonomic comfort.
The Luna has a weight rating of 120kg and comes with a 5-year warranty.
No assembly required.
This chair is delivered to your door anywhere in South Africa free-of-charge and is FULLY ASSEMBLED.
Simply unpack the box and start using your chair!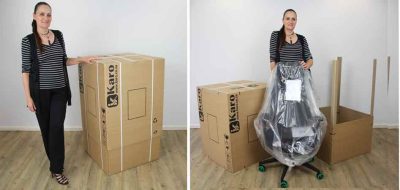 Delivery is FREE to any location in South Africa.
All online orders are processed within 1 working day. The transport time from our factory to your door is as follows:
Gauteng: 1-3 working days (Karo delivery vehicles).
Major metropolitan areas: 5-10 working days (courier service).
Remote locations: allow up to 15 working days (courier service).
We use couriers for all deliveries outside Gauteng. Their delivery times are based on their historical performance and may be influenced by high seasonal demands and unplanned service disruptions.
The Luna has a 5-YEAR warranty.
Our warranty covers all faulty workmanship and material, as well as any latent defects.
Find out more on our Warranty Terms & Conditions. 
The Luna has a synchronous mechanism that promotes Dynamic Sitting.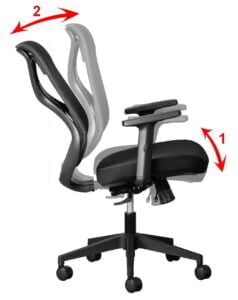 Dynamic sitting occurs in an office chair that is fitted with a mechanism that allows the angle between the backrest and seat to change. By continuously changing this angle, you automatically stimulate, or activate various muscles in your lower back, core and legs. As a result, the blood flow through these muscles increases, bringing oxygen and other nutrients to the muscles and carrying away the waste products of muscle metabolism. By doing so, muscle fatigue and it's associated pain is reduced, particularly in the lower back, core and legs.
A synchro mechanism ensures that the movement of the backrest is always greater than that of the seat.
The tilt mechanism on this chair allows the seat and backrest to move relative to each other in a fixed 2:1 ratio.
In other words, for every 1 degree that the seat tilts, the backrest will move 2 degrees in the same direction.
We offer free returns or exchanges within 14 days of purchase.
You can either return your product for a different one, or get a full refund - no questions asked!
Notes:
Returned items must have all their original tags attached and must be returned in their original packaging.
Returned items must have no visible signs of wear or use.
See our Refund Policy for details.