The 5 most important features on a home office chair
COVID has changed the way we work….forever. Flexible working hours and working from home is here to stay. As employees have been forced to work from home, companies have had to embrace this change, in many cases for the better. In their article, this is what coronavirus will do to our offices and homes, the BBC shares their view of the future of working from home. Simply put, working from home is here to stay and we must prepare our home office accordingly. With this in mind, correctly setting up your home office with a suitable desk and chair is critical for your long-term health and wellbeing.
Health experts have shown that your sitting posture can have a huge impact on whether you suffer from back, neck, shoulder and other health related issues. If you spend many hours at home working or playing on a computer, be wary of buying a cheap gaming chair as they may not provide the adjustability and support you need. Rather look for a higher-end gaming chair with improved ergonomic features.
Every office chair has some adjustment features, but which ones are important to maintain a healthy posture? Here are the 5 most important features for a home office chair:
The 5 most important features for a comfortable home office chair
You must be able to adjust the height of your chair to suit your own height and the desk where you will be working. 
The correct way to adjust your chair height, is to do it away from the desk. Once your chair is at the right height, move it towards your desk and comfortably rest your forearms and wrists on the desk – your elbows should now be bent at about 900. If this is not the case, you may have to adjust the height of your desk. 
The correct way to adjust the height of the chair is by doing so away from the desk.
2. Backrest Angle Adjustment
A crucial feature on any home office chair is the level of back support. Everybody has a different shape back, and each person needs support in different areas. You should be able to position the backrest of the chair in a way that suits your body. This means that you must be able to change the angle between the backrest and seat of the chair.
By changing the backrest/seat angle from an upright 900 to a more reclined position of about 1200, you activate the muscles in the lumbar region of your back. The activation of these muscles increases the blood flowing through them which prevents lower back pain caused by long periods of static sitting. This is known as dynamic sitting. The chair should have a locking mechanism that allows the backrest to be locked into numerous positions.
All our Ergonomic chairs allow for Dynamic Sitting.
3. Lumbar Support on a home office chair
Unlike an old fashioned typist chair, a comfortable home office chair should include a lumbar support that can be adjusted vertically as well as horizontally (depth). The lumbar support should ensure your back is slightly arched and maintains it's natural 'S-shape' curvature. Good lumbar support is essential to reduce strain or compression of the lumbar discs in your spine.
Adjustable office chairs with good lumbar support will keep your spine aligned in it's natural elongated 'S' shape. By doing so, you reduce the likelihood of lower back pain.
This is extremely important because our bodies are not designed for sitting – find out what happens when you sit and how it effects your body
The chair seat should be wide and deep enough to let you sit comfortably between the armrests. If you are tall, look for a deeper seat, and a shallower one if you are not so tall. There should be a 2-3 finger gap between the front edge of the seat and the inside of your knees.
If a number of people of different heights are going to use the chair in your home office, consider one that has seat depth adjustment, for example the Activ, Mira and Vera. This feature allows you to make the seat shorter or deeper depending upon your height.
Adjust the seat depth so there is a 2-3 finger gap between the front edge of the seat and the inside of your knees.
5. Armrests on your home office chair
If you have limited space in your home office, armrests may restrict your movement. If you do have sufficient space, buy a chair with armrests as they improve the overall ergonomics of your work space.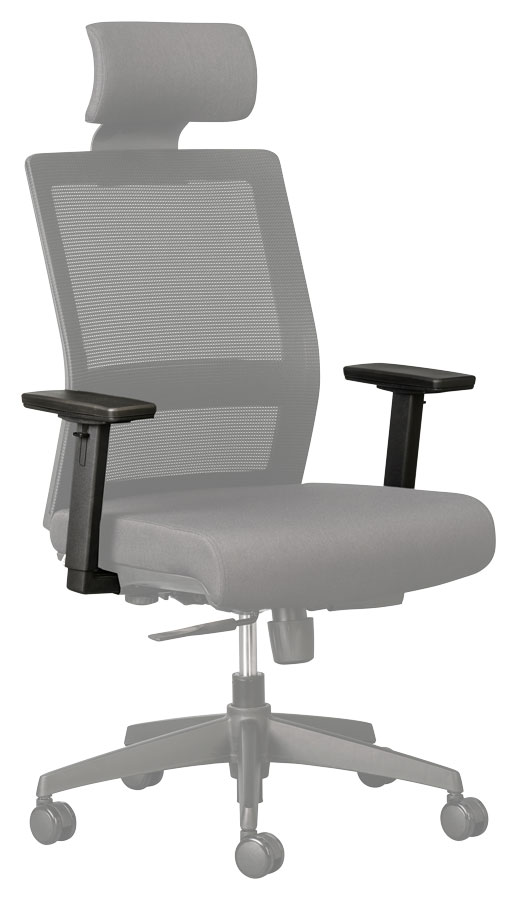 Armrests offer extra support as they take some of the strain off your neck and shoulders.
Only consider armrests that are height adjustable. Many armrests also have an adjustable arm pad that can slide backwards and forwards, and will often allow for sideways or angled adjustment.
Because there are so many options available in South Africa, buying a comfortable chair for your home office can be a daunting task. To simplify the task, find a chair that has the above 5 features and also a good warranty.