Office Ergonomics is about designing office equipment to suit the person using it. This means that the chair, desk, monitor, keyboard and any other pieces of equipment, are designed and adjusted to reduce or prevent unnecessary fatigue, stress and injury. An ergonomic workplace will result in lower absenteeism, improved productivity, greater quality and overall improved wellbeing. The dangers of sitting – why sitting is the new smoking. Because the average office worker spends about 80% of their day sitting, a good posture together with an ergonomic or orthopaedic office chair is vital to promote good health and wellbeing, as well as reduce the risk of back and neck pain, headaches and problems with legs and feet. What is the difference between an orthopedic and ergonomic office chair?
2. Our team at Wellback are experts in ergonomic office chairs, desking and general workplace setup
At Wellback, we talk about your health first. Our story began in May 1986 when we started designing specialist ergonomic chairs in accordance with contemporary design principles. Our highly qualified design engineers have studied ergonomic workplace design and constantly liaise with experts in the field. Important factors to consider before buying an office desk chair.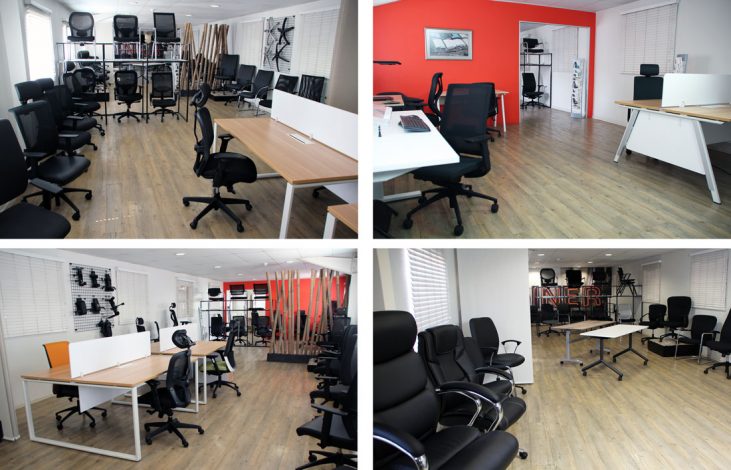 3. Visiting our office chair showroom in Johannesburg
In our showroom located in Spartan near Johannesburg, we have many ergonomic, orthopaedic and heavy duty office chairs. What is a heavy duty orthopedic office chair? We also have height adjustable and sit-stand desks, monitors and keyboards. This allows our Ergonomics Risk Facilitators to make a thorough analysis of how you normally sit at your workstation, and so provide you with the best possible advice.
To make your visit to our showroom a real success, it is important that you have the following information available:
a) The height of your desk at home or at the office
Measure the height of your desk, table, workbench, etc, from the floor to the top of the working surface. We will then setup one of our adjustable sit-stand desks to match the height of your actual workstation. What is the correct ergonomic height for my desk, computer monitor and office chair?
b) Laptop or desktop computer
If you work on a laptop without a monitor, bring it with you. This will allow us to duplicate your current workstation setup and determine whether you need additional accessories like a wireless keyboard, monitor stand, etc.
c) What shoes do you normally wear?
Your footwear can influence the optimal setup of your workstation, so wear the shoes that you normally wear to work.
d) Do you wear glasses?
If so, bring them along so that we can ensure the monitor is placed at the correct distance for you.
5. Why should I book an Ergonomic Assessment?
A session with one of our Office Ergonomics Risk Facilitators will change the way you work. Injury management can be costly and the sooner problems are addressed, the better. If you are experiencing musculoskeletal problems, an ergonomic workstation assessment and the selection of the correct office, orthopedic or heavy duty chair can make a huge difference to your recovery and long-term wellbeing.
During your assessment, our experts may make other recommendations, such as exercises, stretches and postural changes. The ultimate 'how to' video guide of exercises and stretches for office workers.