If you have a larger build and need a high-back chair, most standard task chairs will not be suitable for you. To complicate matters, if you have a back-related ailment, you face an additional hurdle. Not only do you require a heavy duty office chair, but also an orthopedic one that will provide the correct support for your back.
Many retailers claim to sell "heavy duty" chairs, but most of these do not qualify as being "heavy duty". The same argument applies to "orthopedic" chairs.
Unfortunately, there are not many chairs available in South Africa that combine both the heavy duty and orthopedic attributes.
The Heathrow is an exception and is a true heavy duty orthopedic chair.
What makes a chair "Heavy Duty and Orthopedic"?
What makes a chair "Heavy Duty"?
To make a chair that is stronger and more durable, its overall design needs to take the higher performance requirements into account. This means that the combination and strength of 5 of its 6 major components, is vital.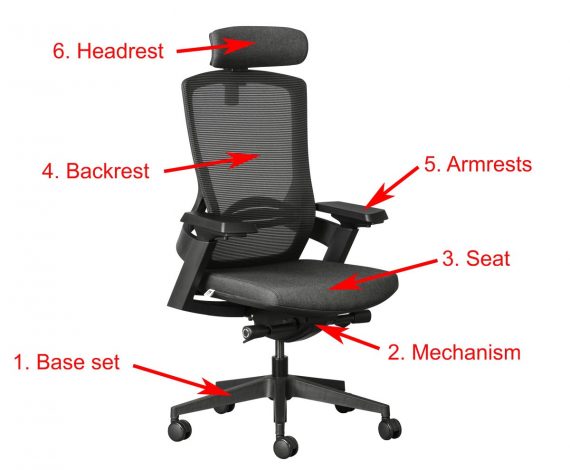 6 Major components of an office chair
For a 'heavy-duty'  chair, there are 5 components that must be strengthened to withstand the additional load. The 6th component (headrest), is optional. 
Note: Not all heavy duty chairs need a headrest.
1. The Base Set
a. Castors or Wheels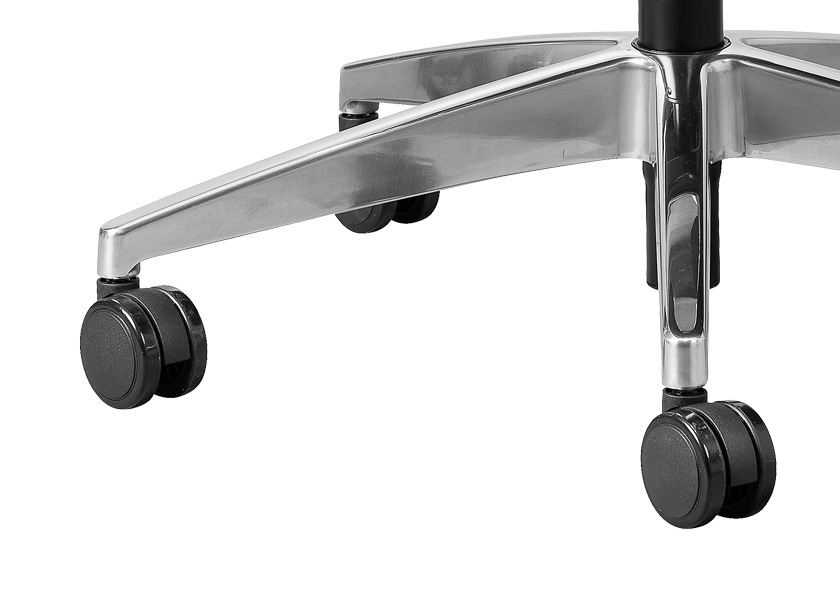 This is where the rubber meets the road!
For a heavy duty chair, it is better to have large diameter castors. Larger wheels result in a higher carrying capacity. 60mm diameter castors have a higher carrying capacity than 50mm ones and are more manoeuvrable.
If the chair is used on a hard surface such as a tiled floor, soft rimmed castors roll better and won't damage the floor. Hard castors work fine on a carpeted floor.
b. The 5-Star Base
The 5-Star base can be manufactured from aluminium, glass reinforced nylon, or formed steel tubing.
Aluminium bases have a very high weight carrying capacity and so are often used on heavy duty office chairs. They are often the most expensive option.
.
Bases made from nylon with glass fibre reinforcing have become extremely popular. With the correct design structure and 30% glass fibre reinforcement, nylon bases are a good choice for heavy duty chairs.
Nylon bases provide excellent strength and are flexible enough to move easily over slightly uneven floors. They are less expensive than their aluminium counterpart
Bases made from steel tubing are welded together and have been known to fail along weld lines. Although they can be very strong, the integrity of the base is highly dependent on the quality of the weld. These bases are the least preferred option for heavy duty chairs.
c. The Gas Lifter
The gas lifter enables you to lift or lower the seat height of the chair. It also acts as a 'damper' to cushion the impact when you first sit down.
Gas lifters should be manufactured in accordance with an international design standard, for example DIN EN 16955-2017. If they are, they will carry the applicable mark or logo as well as a Class Rating.
For heavy duty chairs, a Class 4 gas lifter is preferred because it has a higher load rating than the standard Class 3.
2. The Swivel Mechanism
For a heavy duty chair, the strength of it's swivel mechanism is vital.
To ensure that the swivel mechanism is suitable for heavy duty use, it should be strength tested.
Organisations such as SABS or BIFMA will conduct tests in accordance with the relevant Product Performance Standards.
The mechanism enables you to adjust the movement of the seat and backrest. Adjustments include: 
3. The Seat
The chair seat is made up of 3 basic components, namely the seat base, the foam cushion and the upholstery material. Seats for heavy duty chairs need to be strengthened to "carry the load". Normal or standard  chair seats are not designed for a heavy duty application.
a. The Seat Base
Common materials used for the seat base are plywood, polypropylene or nylon. A seat suitable for a heavy duty chair needs thicker plywood with more laminations for greater strength. For example, the Heathrow has a 12 lamination (18mm), plywood seat shell. Heavy duty seats made from polypropylene or nylon require additional structural webs, or steel reinforcement.
b. The Foam Cushion
Flexible Polyurethane foam is used on nearly all office chair seats, and may be either block cut or moulded.  Moulded foam, like that used for a car seat, is more resilient and will last longer. Good quality, high density moulded foam is essential for all heavy duty office chairs.
c. Upholstery Material
Select an upholstery material that suits the operating environment. Polyester, acrylic or nylon weaves are breathable but more difficult to clean than vinyl or leather.  
4. The Backrest
The chair backrest consists of 3 major components:
a. The Support Structure
For any chair, the backrest support structure is not as heavily stressed as the seat. Upholstered plywood backrests do not normally require additional reinforcement, while polypropylene shells typically have standard web reinforcements. If the chair has a mesh backrest, the supporting frame should be made of aluminium or a good quality, glass fibre reinforced nylon. Other plastics are simply not strong enough for a heavy duty application.
b. Backrest Foam
The foam on upholstered office chair backrests is not highly stressed, even in a heavy duty environment. The use of softer, block cut foam is usually adequate.
c. Mesh Backrest
A good quality mesh will easily have a lifespan of 10+ years. An inferior mesh quickly becomes "saggy" and no longer provides the correct ergonomic support for your back.
d. Lumbar Support
Some backrests, like the Heathrow, inherently offer good lumbar support, while others like the Alya and Activ, have an additional lumbar support adjustment feature.
In 24/7 environments where multiple people use the same chair, you often find that different users don't re-adjust the lumbar support at start of their shift. This negates the benefit of the additional lumbar adjustment function.
Under such circumstances, a control room chair like the Heathrow is worth considering.
5. The Armrests
Height adjustable armrests are an ergonomic essential for all  chairs used in a 24/7 control room or call centre. 
Depending on the work performed, height adjustable armrests can add to the ergonomic benefit. Some chairs have multi-functional armrests. These are height and width adjustable, and may also allow the arm pads to be moved forwards, backwards and swivel inwards and outwards.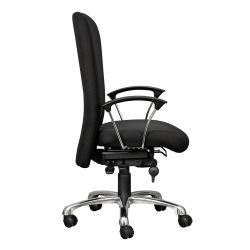 Armrests for Big and Tall executive office chairs should be of a strong construction as they are often used as a support aid to get into and out of the chair.  A good example is the Stratos armrest available on the Heathrow.
What makes a Heavy Duty Chair an Orthopedic one?
A Heavy Duty Orthopedic Chair must have both a Free-Float Swivel Mechanism, and Dual Density Seat Foam.
a. Free-Float Mechanism
Orthopedic chairs use a free-float swivel mechanism that allows separate, or independent control of the seat and backrest. The seat and backrest do not need to be locked in a certain position, but can float forward and back in unison with your body. This prevents excessive lower spine pressure when leaning forward. This is not possible on a chair fitted with a synchronous mechanism.
The Ultimate Heavy Duty Orthopedic Chair
The Heathrow was specifically designed to meet the highly demanding 24 hour, 7 days a week work environment. All the components used in this heavy duty chair have been designed to out-perform and out-last any conventional task chair. 
Buy Heathrow Orthopedic Chair
Free-Float Mechanism
By independently controlling the angles between the backrest and the seat, orthopedic chairs may alleviate, and even rehabilitate, certain medical preconditions, specifically musculoskeletal issues of the spine. Medical professionals often endorse orthopedic office chairs.
The mechanism on the Heathrow Heavy Duty Orthopedic Chair allows you to independently adjust the:
Backrest angle

Seat Tilt angle

Seat Depth.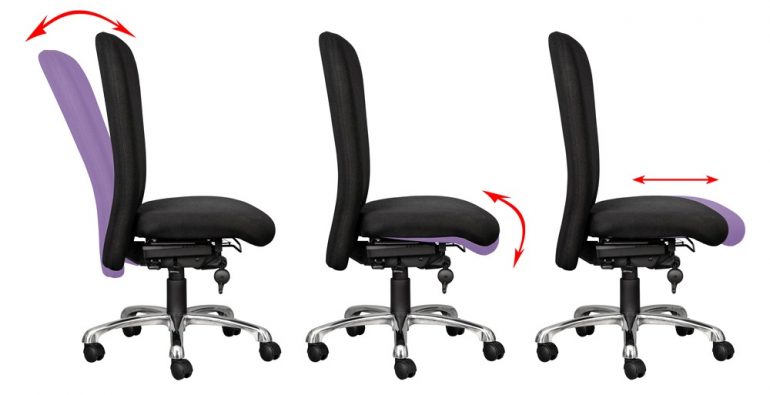 A Free-Float mechanism allows you to independently adjust the backrest and seat of the chair. This enables you to customise the exact angle of the seat and backrest to create your optimal sitting posture. 
All orthopedic office chairs use a Free-Float mechanism
b. Dual-Density Seat Foam
Moulded foam has long been recognised by ergonomists, occupational health, and medical professionals as being able to deliver the best support and cushioning. To be classified as "orthopedic", chairs must have dual-density moulded seat foam. This foam adds an extra dimension to orthopedic comfort by providing targeted support where it's needed most.
The conical high-density foam insert has a cut-away shape for the coccyx to reduce pressure on the tail bone. The location of the higher density foam inner cores, encourages the user to sit in the correct position on the seat.
By adding a gradual slope towards the front of the seat, your knees drop slightly below the level of your hips to "open" the pelvis. By doing so, pressure in the lumbar discs is reduced which decreases lower back pain and improves blood flow.
What actually happens when you sit?
Conclusion
24/7 call centres, control rooms, and Big and Tall people need a heavy duty chair. A standard chair will usually not be able to 'carry the load' and won't last as long as one would expect. Many people that need a heavy duty chair, also have back ailments, and so require a chair with orthopedic adjustability. There are not many office chairs available that combine both the heavy duty and orthopedic attributes. The Heathrow does, and is therefore a heavy duty orthopedic chair.